Today it is time again. Friday. For Gina Lückenkemper this means pain, agony and probably a few tears on the tartan track at the National Training Center in Clermont. Because Friday is simply the "knockout day" in Starcoach Lance Brauman's training camp in Florida – or, as Lückenkemper calls it in an interview with DW, "the day we will die in the group".
Because on Fridays there are the "300-meter splits". The runs are a specialty of Brauman. First 200 meters in less than 24 seconds. One minute break, followed by 100 meters around twelve seconds. After a six-minute breath there are two 150- Meter runs with a 60 second break in between. Lückenkemper already knows that she will "lie on the floor crying in pain during the session and at the end".
"Full pot in the headwind"
Germany's fastest woman recently had to run the first 150-meter sprint "full pot in the headwind". She almost vomited, but had no time to do so, as the next 150-meter run had to be completed after a minute's break Lückenkemper speaks of "borderline experiences" – and of the fact that in this training group she learned "to go to these limits and, above all, to run into lactate." not trusted, "says the 24-year-old.
In autumn 2019, she decided to switch to Lance Brauman's training group in preparation for the Summer Olympics in Tokyo. The timing was right, says Lückenkemper, because her club trainer, Uli Kunst, wanted to quit at the end of 2020 anyway. She had worked with art since 2015. She owes her personal best of 10.95 seconds in the run-up to the 2017 World Championships and 10.98 seconds at the 2018 European Championships, says Lückenkemper. And through those times, art enabled her to join the Brauman's training group and take "the next step in her career".
First German with star trainer Brauman
The American Brauman is considered one of the best sprint coaches in the world. His first best-known athletes were the former 100- and 200-meter world champion Tyson Gay (USA) and the two-time 200-meter Olympic champion Veronica Campbell-Brown (Jamaica). Brauman's current stars are 200-meter world champion Noah Lyles (USA) and 400-meter Olympic champion Shaunae Miller-Uibo (Bahamas). Wayde van Niekerk joined them a few weeks ago. The South African is an Olympic champion and world record holder over 400 meters.
Lückenkemper is the first German in this international training group. Her greatest success so far was EM silver 2018 in Berlin. This may seem a bit modest compared to the precious metal of the others, but coach Brauman is happy to have the student of economic psychology with him. "She has proven that she is a world-class athlete, was second in the European Championship, has undercut the eleven seconds a few times. She is more than qualified to be in this group," Brauman told DW.
Not only run along, but also keep up
The big names with their medals and merits are motivation and incentive for Lückenkemper. She not only wants to run, but also to keep up. In every training session, stars stand to the left or right of her on the track. "This makes it much easier for you to reach your limits and to push yourself, even if it may not be that easy on one day," says Lückenkemper.
Lance Brauman (here in Brussels in 2010) has been one of the most successful sprint trainers in the world for years
She has been in the small town of Clermont, about 40 kilometers west of Orlando, since February. Lückenkemper already knows his way around and has been there several times in recent years. Her daily routine starts with applying sunscreen, protection factor 50. This is just as important as the water bottle when exercising, she says. Nevertheless, the three months in the "Sunshine State" can be seen, her skin is very tanned.
Intelligent training structure
Lückenkemper describes Brauman's units as "incredibly intelligent in terms of the training structure". The coach asks everyone before the units how they are feeling – and the training is then adjusted accordingly. Lückenkemper emphasizes that although they train "only four times a week hard", but that gives everyone the time and opportunity to incorporate many recovery phases. Brauman repeatedly points out how important regeneration is: "What makes someone sick is to recover? He's sleeping. Because sleep is simply the best way for the body to regenerate. " And what Brauman's protégés expose their bodies to during training is extreme, says Lückenkemper.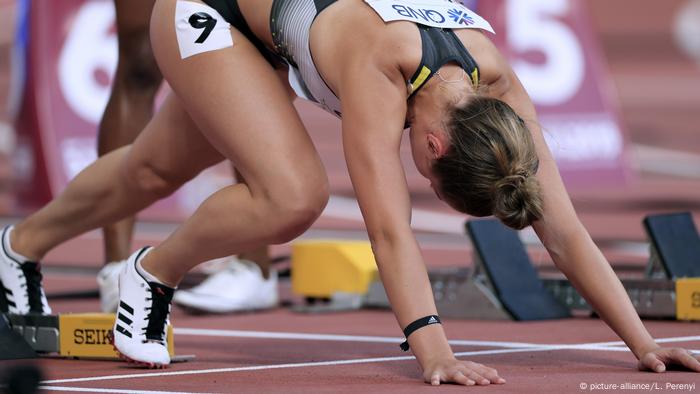 In the starting blocks: Gina Lückenkemper is looking forward to the Olympic Games in Tokyo
The summer games in Tokyo are of course a big topic, but at the moment the focus in the Brauman Camp is still on the respective national championships. For Lückenkemper, they will take place on June 5th and 6th in Braunschweig. At the German Championships, she would like to run the 11.14 seconds again with which she secured the Olympic ticket in 2019. If it were even faster, so much the better. The times would come, says your trainer Brauman: "Gina trains every day with and against the best in the world – such circumstances lead to good times."
Change "already a success"
Outsiders may measure Lückenkemper's move to Brauman by their performance in Tokyo. Whether she is the first German since Heike Drechsler to make it into an Olympic 100-meter final in 1988 – or not. But for her personally, the commitment is "already a success," says Lückenkemper. In winter she still had shin problems. But since she has been training again in Florida, she has "not had a single day of pain," said the sprinter.
That is why she will give everything again in the 300-meter splits – despite the agony and the certainty that it will "be really mean". Although Gina Lückenkemper has already trained several times in Clermont, she still speaks enthusiastically about the circumstances and the team. "You don't get such an opportunity every day to join such an elite group. This is something unique here. I am incredibly grateful that I have this opportunity at all."
.